Love Stories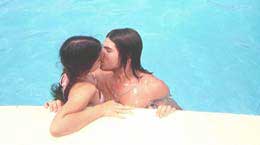 Ever wondered how love starts with a smile, grows with a kiss and ends with a tear? Love stories that end on a broken note are often those that are the most touching. Get your tear ducts ready for a good outflow of tears! Read about love stories at Romance Quote
Text Me - Do you like to receive text messages from friends? Find out how a simple text message evolved into a beautiful but sad love story.
Roses - "Till death do us part." See how roses manage to bridge the gap between the living and the dead for a sweet old couple.
True Love - Is there any true love in this world? Learn about what is the real true love for everybody.
The Biker - This short but sad story about how a biker makes his choice for love will leave everybody touched.
The Wedding Vows - Read about the saddest wedding vows that can bring tears to your eyes.
A Couple's Heartbreak - Heartbreaks are inevitable whenever something unfortunate happens. However, this story shows us once again that love conquers all.
Kindness Pays - Read about how God gives love to his children in such a way that kindness always pays off.
The Missing Rib - God saw that Adam was lonely and took out one of his ribs to create Eve. Have you found your missing rib? Check out about how the male lead in the story found and lost his missing rib.
The Soldier - A story that is widely circulated online and rumoured to be true. Teaches us how to learn more about the character of a man.
Soulmates - True story about how a pair of soulmates connected right away from their first meeting.
The Lizard - Miraculous true story about how a lizard shows greater love than what human beings can show.
Last Resort - Sad touching story on how a man lets a woman go as a last resort because he loves her more than he loves himself.
Chain of Love - What goes around comes around. This includes love in this heart warming cute little story.
The Breakup Letter - Lovers always make things complicated for themselves. In this story, see how a love letter evolves into a break up letter with disastrous consequences.
Learning to Love - This story depicts how the simplest act is actually the most romantic of them all.
Unlucky Love - Cute story about how luck turns around for a boy as he finally finds love.
Tell your friends and family about this page!