Romantic Stories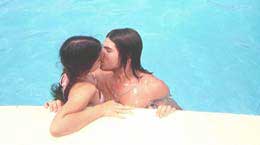 Only Love - The song "Only Love" brings great meaning for all of us. For one woman, it is also the source of heartache. Read about it here.
Roses - "Till death do us part." See how roses manage to bridge the gap between the living and the dead for a sweet old couple.
Gift of Love - The greatest gift you can ever give a person is love. See how a husband manages to do it even under all circumstances.
White Lies - Have you ever told a white lie to someone you love? Sometimes white lies can cause a lifetime of pain and anguish for both parties.
Learning to Love - This story depicts how the simplest act is actually the most romantic of them all.
100 Days Of Love - A love story where a cute little game of love goes horribly wrong.
You Are That Guy - Sweet commentary from a woman about the guy in her life. Guaranteed to give you a warm and fuzzy feeling after reading it.
My Little Mouse Geek - Cute story about how a guy falls for a girl that looks like a geeky little mouse and how fate brings them together.
The "Hate" Letter - Out of ideas on how to write a love letter to someone you love? How about trying this smart and sweet way of writing a love letter.
Tell your friends and family about this page!