Sad Love Stories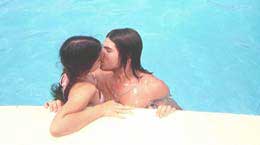 Text Me - Do you like to receive text messages from friends? Find out how a simple text message evolved into a beautiful but sad love story.
The Wedding Vows - Read about the saddest wedding vows that can bring tears to your eyes.
Papercranes - Ever heard of the Japanese tradition of folding one thousand papercranes for luck? Read about papercranes and a love story here.
Promise - A touching heart warming story about a man fighting to fulfil his promise. Special thanks to Brian Joseph for sending the story in.
What I Did For Love - Extremely popular Korean love story written online by Val. Very long and will take easily fifteen minutes to read. However, do take a look at it and you will not regret it.
The CD Boy - Heart touching love story about how a boy attempts to win the girl of his heart through buying CDs.
Untitled Love Story - Untitled Love Story is a story of the thwarted love between a young man and a young woman. The main theme of the story, however, is about a long lost love, that when found, could not be recovered again because too much time has passed.
The Lizard - Miraculous true story about how a lizard shows greater love than what human beings can show.
Tree House - Sad love story revolving two kids and a tree house and how love left the couple when they grew up only to return in the most tragic way.
Tell your friends and family about this page!